25 public health care actors from the Plateau region including State Graduate Nurses, State Auxiliary Nurses, State Auxiliary Birth attendants and Sage Femme d'Etat are in the regional workshop from 10 to 14 September 2018 in Atakpame. This is an initiative of the DRS Plateaux.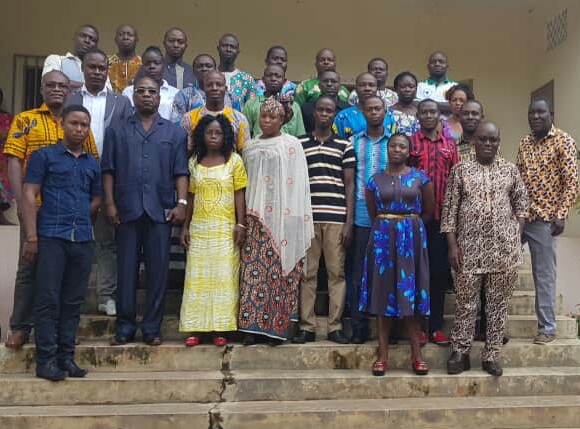 Dr. Aho Anthony in the front row on the right.
The premises of the Togolese Red Cross Antenne of the Plateau Region houses this large workshop which will culminate in 5 days of work to strengthen the skills of these actors in the provision of interventions of the medical care of people hiv-positive interventions and interventions to prevent mother-to-child transmission of HIV in health facilities in the Plateau region. Providers in the Plateau region will be equipped to provide PECM services to PHAs and PMTCIs in their respective structures.
Among the four facilitators appointed for the workshop is Dr. Aho Anthony, Executive Director of CRIPS-TOGO as the Expert Facilitator of the PNLS/IST at work. Through interactive presentations, group work, role-playing games and video screenings, health actors from the plateau region will revisit all the contours of the PVM CEP and PMTCT.